ADOT Alerts App
Download the ADOT Alerts App and know when highway closures occur near you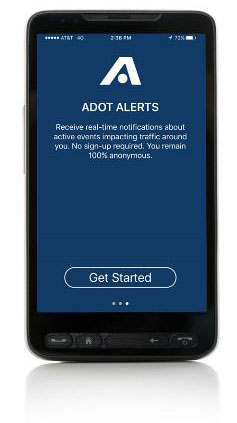 The official app of the Arizona Department of Transportation, ADOT Alerts is a free, must-have app for those who travel on Arizona's highways. ADOT Alerts provides real-time information to travelers about unplanned, major events that are impacting traffic so informed decisions can be made to avoid lengthy delays or potentially dangerous situations.
What ADOT Alerts does:
You'll receive alerts when major, unplanned events occur that impact traffic. This app isn't geared toward daily commuting or travel times – ADOT already posts travel times on overhead signs in the Phoenix and Tucson metro areas.
Here's an example: If a crash closes southbound I-17 near Cordes Junction, we'll send an alert to mobile devices in the I-17 corridor from the closure location all the way north to Flagstaff. Motorists can then make a decision to re-route or delay their travel plans, avoiding a lengthy delay.
By enabling Location Services in the app, you won't be spammed with irrelevant alerts. We use geofencing to send alerts only to mobile devices with our app in the targeted area. Remember to allow the app to send push notifications, too.
After downloading the app, no sign up, registration or log-in is required. You remain 100% anonymous.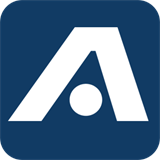 Download the ADOT App
ADOT App is a free download on the iTunes App store and on Google Play.



ADOT Alerts app FAQ
Where can I get the app?
The app can be downloaded free of charge in Apple's App Store and the Google Play store. It is compatible with iOS and Android devices. Search for "ADOT Alerts" in the respective app store.
Do I need to log-in or register?
You do not need to register, log-in, create a user name or provide any personal information to use the app. However, to make sure you receive alerts relevant to your location, you will need to enable Location Services in your mobile device's settings for the app.
How is this app different than other traffic apps?
Those apps are helpful for daily use, like commuting and getting across town. ADOT Alerts is for major, unplanned traffic impacts, like a crash that closes I-10 near Casa Grande or a snowstorm that shuts down I-40 near Williams, that require travelers to take an alternate route or delay travel. When such an event occurs, we'll send alerts to mobile devices in the affected areas, providing information to travelers and giving them the choice to re-route or delay their travel plans.
Give me an example of what would trigger an alert.
For instance, if a crash has closed southbound I-17 near Cordes Junction, an alert will be sent to mobile devices with the ADOT Alerts app in the I-17 corridor from the crash location all the way north to Flagstaff. With that info, travelers will be able to make a decision to take a different route south or delay their travel.
Will the app alert me to a wrong-way driver?
Yes. When ADOT is alerted to a wrong-way vehicle we will send an alert to mobile devices in the area of the affected stretch of highway.
Will I get all the alerts? I don't want to be spammed with alerts not near me.
By enabling Location Services for the app, you will only receive alerts that are sent to the area where you mobile device is located. For instance, if a crash has closed I-8 in Yuma and you're in Flagstaff, you won't receive that alert.
Are alerts text only?
Alerts will include a text description of the event, but they can also include image attachments, links to websites or video, and custom audio.
Are these alerts sent automatically or does a person send them?
All alerts are sent by a public information officer at ADOT's Traffic Operations Center to ensure they are accurate, critical in nature and appropriately targeted to a geographic area. Information will also continue to be posted to ADOT's Twitter and Facebook pages, and provided to the media. ADOT Alerts provides an avenue for getting critical information directly to motorists as quickly as possible.
Will this cover the entire state of Arizona?
Yes, it will cover the entire state highway system, which ADOT builds and maintains.
Will I receive alerts in rural areas?
Yes. The app will receive alerts wherever your mobile device receives cell coverage. A WiFi connection is not required.